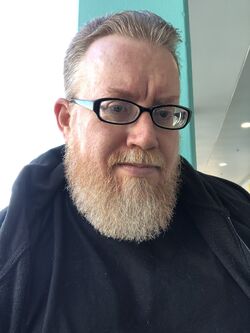 Cam Banks (he/him) is a role-playing game designer and writer from Auckland, New Zealand, primarily known for his work on multiple incarnations of Cortex RPGs. In particular, he was the designer for three games in the Cortex Plus line by Margaret Weis Productions (Smallville Roleplaying Game, Leverage: The Roleplaying Game, and Marvel Heroic Roleplaying) and is now the author, designer and creative director for the newest edition, Cortex Prime, now owned by Fandom.
Cam Banks' early design work, such as the 2001 Elizabethan Cthulhu Mythos D20 System game Elizabethulhu, was self-published while he was at State College, Pennsylvania.[1] He was inspired by playing the game Amber Diceless Roleplaying.[2]
Cam Banks' early work in the RPG industry was as a freelance writer for Sovereign Press, working on Dragonlance, a Dungeons & Dragons setting that Sovereign Press had licensed from Wizards of the Coast. Between 2003 and 2007, he contributes to several Dragonlance books published by Sovereign Press, most notably being the sole credited writer for Spectre of Sorrows (2005) and Price of Courage (2006), two of the three adventure books in the Age of Mortals campaign. (The other was written by Christopher Coyle.)[3][4]:353 While at Sovereign Press, he also wrote his first novel, a Dragonlance story called The Sellsword. Banks wrote the book in 2007 and it was published in 2008. The Sellsword was the first volume in a series called the Anvil of Time, although later volumes in the series were written by other authors.[2][5][6]
Following the expiry of the Dragonlance license, Sovereign Press was wound up and Banks followed CEO Margaret Weis to her new company, Margaret Weis Productions, where he worked on games in the Cortex System designed by Jamie Chambers. Banks was the lead designer on Big Damn Heroes Handbook for the Serenity Role Playing Game (which won the 2009 Origins Award for Best Roleplaying Supplement[7]) and Supernatural: Guide to the Hunted for the Supernatural Role Playing Game (which was applauded for its design and detail but criticized slightly for a lack of originality because it adhered so closely to the Supernatural TV show[8]).
Around 2010, Cam Banks was promoted to the line developer of the Cortex product line, taking over from Jamie Chambers. He ceased to use the classic Cortex System, which was renovated into the Cortex Plus system.[4]:354 Banks was the line developer for the Smallville Roleplaying Game (2010), which he co-designed with indie publisher Josh Roby.[4]:354 Banks co-designed Leverage: The Roleplaying Game (2011) with Evil Hat Productions' Rob Donoghue, Clark Valentine, and others.[4]:354 He was the design lead for Marvel Heroic Roleplaying (2012), with team members including Rob Donoghue again, Matt Forbeck, Will Hindmarch, and others.
Reception for these games was generally positive. Both io9 and RPGamer reviewed Smallville and praised the way the game "had the heart of an independent role playing game and focused on conflict rather than powers."[9][10] Leverage: The Roleplaying Game was nominated for an Origins Award. Marvel Heroic Roleplaying won two Origins Awards[11] and an ENnie[12] and was praised by SF Signal for how "authentic and true to the characters the representations felt."[13]
Kickstarters and Cortex Prime
[
edit
|
edit source
]
Starting in February 2013, Cam Banks worked as a brand manager and production specialist for Atlas Games.[14] In this time, he ran the successful Kickstarter for the 3rd edition of their Unknown Armies RPG.
On 1 November 2016, Margaret Weis Productions released a statement announcing that Cam Banks and his new design studio Magic Vacuum had licensed the original Cortex System and Cortex Plus system and would be "taking over the design, development, and publishing of games based on these rules... for 2017 and beyond," coinciding with "Margaret's retirement from RPG development to focus on her current novel and film projects."[15] On 28 April 2017, Banks launched a Kickstarter for a new edition of Cortex called Cortex Prime, and by the end of that month it had been funded. The Kickstarter concluded on 29 May 2017, with 2,756 backers pledging $84,430.[16]
In 2018, Fandom Tabletop purchased the rights to Cortex and hired Banks as the line's Creative Director. Fandom plans to publish the newest edition of the Cortex Prime Game Handbook in 2020, a number of "spotlight" mini settings in 2021,[17] and licensed role-playing games Tales of Xadia and Legends of Grayskull (based on the Dragon Prince television series and Masters of the Universe franchise respectively), in 2021.[18][19]
Design Credits: Dragonlance Dungeon Master's Screen 2003
Additional Design Credits: Age of Mortals 2003
Additional Design Credits: Towers of High Sorcery 2004
Additional Design Credits: War of the Lance 2004
Design Credits: Bestiary of Krynn 2004 ENnie Awards: Best Art, Interior and Best Monster Supplement: Silver Awards
Author: Dragons of Krynn 2006
Author: Bestiary of Krynn (revised) 2007
Co-author: Key of Destiny 2004
Co-author: Spectre of Sorrows 2005
Co-author: Price of Courage 2006
Dragonlance: Dragons of Autumn (Updated version of the original adventures)
Dragonlance: Dragons of Winter (Updated version of the original adventures)
Cortex System games and supplements with Margaret Weis Productions

[

edit

|

edit source

]
Cortex Plus games with Margaret Weis Productions

[

edit

|

edit source

]
Cortex Prime games with Fandom

[

edit

|

edit source

]
Cam Banks at Wikipedia, the free encyclopedia.
Community content is available under
CC-BY-SA
unless otherwise noted.