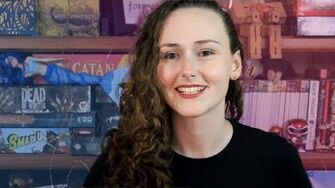 Dael Kingsmill is an Australian DM and YouTuber who makes videos about Dungeons & Dragons on her YouTube channel, MonarchsFactory (a pun on her surname). Her videos typically present her own house rules, homebrew systems, or GM approaches to specific topics, often with the aim of making games of D&D feel more like the mythology and folklore that they are inspired by.
Dael Kingsmill and Matt Colville occasionally respond to each other's videos in their own GM advice videos.
Between 2013 and 2015, Dael Kingsmill was the mythology vlogger on the Geek & Sundry Vlogs channel, relating various mythological stories (with a focus on Greek mythology) and illustrating her stories with cartoons. Throughout this period, and continuing after the Geek & Sundry Vlogs channel shut down, she posted videos to her MonarchsFactory channel, including both mythology (Greek myths, fairy tails, Norse myths, etc.) and other content of personal interest, including Pokemon videos and random musings in a show called Too Easily Distracted (a reference to TED Talks).[1]
In December 2016, one of Dael's TED videos was about her homemade DM screens for an upcoming campaign of D&D that she was going to run (having previous experience of Pathfinder). This early video demonstrated the high level of preparedness and customisation that would be a hallmark of later videos (including, in this video, creating geographical maps not only for the setting as a whole, but ones customised for each player based on their character's background).[2]
In 2018, Dael wrote, produced and starred in a webseries called Wolfgang about the messy lives of young, inner city werewolves.
Dael started making D&D-related videos in February 2018, starting with GM advice for managing overland travel.[3] Since 2019 and the conclusion of Wolfgang, just over half of the new videos on her channel have related to D&D, with most of the others relating to mythology and folklore.
References
Edit
External links
Edit
Community content is available under
CC-BY-SA
unless otherwise noted.